Larzac and the Templar Sites
La Couvertoirade, one of the most beautiful villages in France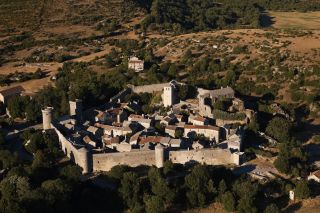 As part of the Causses et Cévennes, the Larzac has been listed as a UNESCO World Heritage Site since 2011 for being a living Mediterranean agro-pastoral cultural landscape. This area in the south of France stretches over 3000 km² across four departments (Aveyron, Gard, Hérault, Lozère). This grandiose natural landscape consisting of mountains, valleys, causses (such as the Larzac) and gorges is a perfect testimony to the age-old intimate relationship that still continues between humankind and their environment – agro-pastoral culture.
In the history of France, the Larzac has a special place that you may just discover. Yet you can also take in its sheer splendour, its simple beauty, and the many surrounding Templar sites and picturesque villages – there really is so much to do! The Templar sites will take you back in time to the legendary world of the Knights Templar and Hospitaller. The red cross pattée is seemingly everywhere, in places such as La Cavalerie, Sainte-Eulalie-de-Cernon, the Fort de Saint-Jean-d'Alcas and Viala-du-Pas-de-Jaux. The history of these knights lies partly behind the thick walls of these fortified villages, whose stone walls look like they came out of the ground of the Causse itself. In Sauclières, visit the Musée des traditions du Sud Aveyron, where you can find out about the life of shepherds, men destined to more simple lives than knights yet still interesting. Roman Antiquity has also left its mark here, which you can find out about at the Musée archéologique et géologique du Larzac. Meanwhile in Sainte-Eulalie-de-Cernon, your children will be enchanted at the Reptilarium. Pythons, giant turtles, crocodiles, lizards, iguanas and chameleons all relax in this dry, mineral environment. Watching these animals being fed by their carers every afternoon is sure to fascinate and delight even those that claim to be scared of them.
If you like less wild yet equally spectacular sensations, the picturesque villages of Nant and Saint-Martin-du-Larzac have much to offer. Nant features a stone covered market that looks a thousand years old, and Saint-Martin is home to a dolmen, a chapel and cave dwelling. From seeing so many stones out of the ground, we understand that these structures have contributed to the fertilisation of an initially unworkable soil, and that spades and pickaxes have struggled to find the fat of the land.